"Fifth column" is an expression used to designate, in a situation of military confrontation, a sector of the population that maintains certain loyalties (real or perceived) towards the enemy side, due to religious, economic, ideological or ethnic reasons. Such a characteristic makes the fifth column be seen as a group of people potentially disloyal to the community in which they live and likely to collaborate in different ways with the enemy.
First study on magnetism after the vaccine, we went out on the street with @revelionenlagranja. Tests reveal that the phenomenon is simple adherence by body fat, sweat or creams (First test with 21 vaccinated / unvaccinated volunteers):
https://odysee.com/@periodistasporlaverdad:5/magnetismo-vacunas:d?lid=442d4973cd525799c3a757e5b1466e156d1c18a8
On the hoax of magnetism in the skin, vaccines. We talk about nanobots and the impossibility of magnetism occurring with a dose of vaccine for logical, physical and biological reasons:
https://odysee.com/@periodistasporlaverdad:5/magnetismo-hoax:4?lid=442d4973cd525799c3a757e5b1466e156d1c18a8
REWARD OF € 300 to the first person who brings us a case of real magnetism. ( No candidate showed up ):
https://odysee.com/@periodistasporlaverdad:5/magnetismo-vacunados:8?lid=442d4973cd525799c3a757e5b1466e156d1c18a8
https://t.me/periodistasporlaverdad/216
Interview with Diego Peña Gil, Professor of Organic Chemistry, AUTHOR OF THE STUDY ON THE MAGNETISM OF GRAPHENE that was used in the FIFTH COLUMN to falsely affirm that graphene, (a derivative of carbon and graphite), is a magnetic material:
https://periodistasporlaverdad.com/diego-pena-catedratico-de-quimica-organica-por-la-universidad-de-santiago-de-compostela/Below is an excerpt from the interview:

What do you think about the theses regarding graphene and vaccines?Graphene technology cannot do anything that they are saying, much less magnetic graphene, which is still very basic. There are other better developed magnetic materials. By the way, it could be known that there is no graphene in vaccines just by seeing the dissolution of what is injected: graphene is not soluble, therefore a graphene device could not be injected in solution. If there were graphene, the vaccines would be very dark colored suspensions. Much less could they inject magnetic graphene because it is not stable under ambient conditions, before injecting it its magnetic properties would be lost.Can graphene magnetize something with current knowledge? Would it be possible only in the laboratory?

It's magnetic only under very specific laboratory conditions, we need to create ultra-high vacuum conditions. It is very unstable, so that under ambient conditions it loses all its magnetic properties.

Do you know if graphene could be inoculated with a vaccine in a human body?

Would that cause the human being to acquire some kind of magnetism in the place of the vaccine?

As I mentioned before, the magnetism would be lost as soon as we tried to dissolve it.

We could inject graphene but it would be like injecting charcoal (graphene and carbon have the same composition: carbon).

Of course, the vaccines would be black suspensions and from what I see they are transparent solutions.

We investigate Ricardo Delgado Martin, FOUNDER OF THE FIFTH COLUMN ( La Quinta Columna). A former fitness instructor with a forged resume, a candidate for national police with close family ties to Freemasonry: https://odysee.com/@periodistasporlaverdad:5/Ricardo-Delgado-Quinta-Columna:7?lid=442d4973cd525799c3a757e5b1466e156d1c18a8
https://t.me/periodistasporlaverdad/269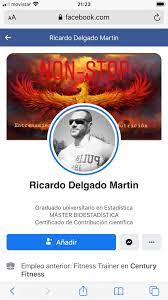 Ricardo Delgado Martín, founder of the Fifth Column, acquired an online course on biostatistics in March 2020. To buy this online course no previous qualification is necessary and the course is delivered directly with the diploma. This is all the previous training that the founder of the Fifth Column has on biology, so we conclude that he has scammed his audience with an absolutely false professional profile. We see what his curriculum was like before the plandemic: fitness monitor and opponent of the national police.
We also introduce you to the person with whom Ricardo Delgado spent his childhood, the poet Antonio Jose Trigo, the son of the founder of the Masonic lodge Mártires del Deber (41) of Lora del Rio, a lodge strongly connected with the central lodges of the Spanish Grand Orient (GOE) and with the Regional Symbolic Grand Lodge of The Midday (GLSRM),  founded between 1924 and 1936.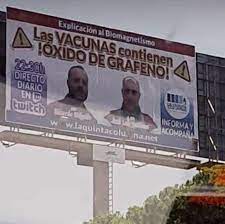 The current account is present in all its articles. He never stops asking for donations.

GAME OVER GRAPHENE. The international plot of graphene. Actors involved in the plot. Who speculated from his imagination THE GRAPHENE, before the falsified analysis of Campra was carried out? Was it the fitness monitor or the bike mechanic?
https://odysee.com/@periodistasporlaverdad:5/game-over-grafeno:0?lid=442d4973cd525799c3a757e5b1466e156d1c18a8
The lie got bigger. We go from graphene to the existence of a complete mind control circuitry based on graphene. Anyone with a minimum of knowledge knew that they are only observing crystals of salt and dirt. The show and the donations were to go on. In this way, a lot of people without knowledge began to see graphene and nanochip everywhere. Ricardo Delgado encouraged them to buy amateur microscopes.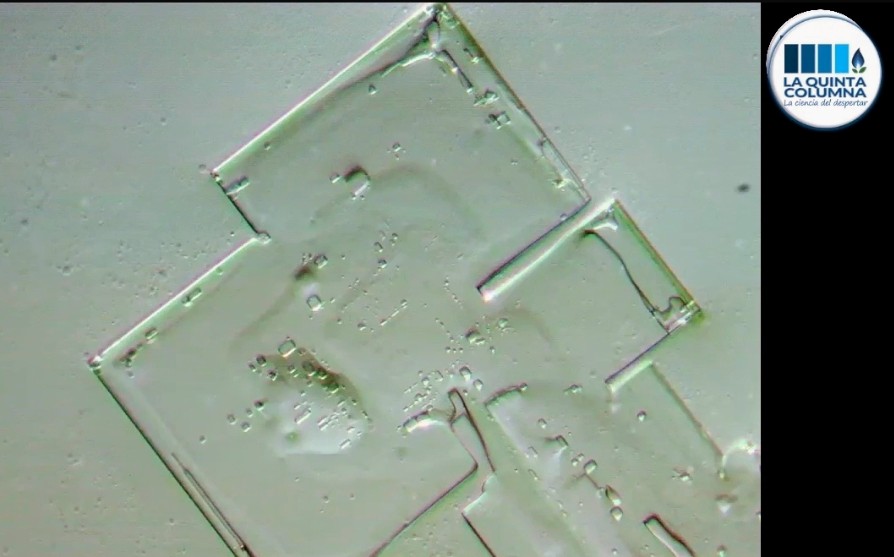 https://t.me/periodistasporlaverdad/362
They even falsely claimed that graphene had been found in the UK and there was a chain of custody. Nothing beyond reality. There was no chain of custody and the perpetrators were not identified. The report clearly led to deception and had really been carried out by an anonymous group linked to protests.
Trama del grafeno (odysee.com)
7. JOSE LUIS SEVILLANO, defending Freemasonry, publications of admiration Rosicrucians on its wall. RICARDO DELGADO and his family link with Freemasonry.
https://odysee.com/@periodistasporlaverdad:5/masoneria-en-espa%C3%B1a:3?lid=442d4973cd525799c3a757e5b1466e156d1c18a8
8. Lies and scams of @infovacunas exposed. How he laughs at you in your face. Manipulation of papers and images. The white label of @laquintacolumna exposed:
https://odysee.com/@periodistasporlaverdad:5/infovacunas:3?r=Cq7qfF3Jjyd2M5WkPFzbs8NycfuEZKU3&lid=442d4973cd525799c3a757e5b1466e156d1c18a8&t=55
https://t.me/periodistasporlaverdad/1258
COUNTER-REPLY: https://t.me/periodistasporlaverdad/1271?comment=47186
9.  THE CAMPRA REPORT, PERFECT FOR WIPING YOUR ASS: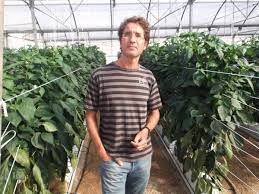 https://odysee.com/@periodistasporlaverdad:5/viales-grafeno-uk:3?lid=442d4973cd525799c3a757e5b1466e156d1c18a8
Heis a climate change expert who worked at NASA facilities funded by the Obama administration. Now it analyzes vaccines and claims to find "graphene"
Pablo Campra Madrid, del Calentamiento global y la NASA al análisis de vacunas para la Quinta Columna
With his geoengineering company CLIMATIC GEOENGINEERING SOLUTIONS he provides scholarships for senior managers at the University of Almería.
PABLO CAMPRA MADRID, the professor at the University of Almeria who WORKED in the Lawrence Berkeley National Laboratory research department  in California, under the Obama administration's Department of Energy. At Berkley National Laboratory, the strategies against climate change that the US proposed to the G-20 member countries and currently contributes to the "fight against covid-19" were cooked:
The newspaper library tells us that during his stay in the US, Pablo Campra had access to theOmputadoras of the US Department of Energy and was able to access NASA's Terra satellite data, a privilege that few researchers can access.
Campra not only fought against climate change, specifically worked "against global warming":
SCIENTIFIC CLUB and the report prepared by Pablo Campra were used to introduce GRAPHENE in all non-Spanish-speaking countries  .  In our video Game Over Graphene, we follow the trail from its origins. We see several collectives and characters involved in the spread of graphene around the world:
The COMUSAV network is used for the distribution of graphene in different parts of the world, especially in Latin America.  Taking advantage of the popularity and wide acceptance of Chlorine Dioxide as an alternative treatment, its distributors have wide credibility and numerous networks connected around the world. The split and minor group of "Doctors for the Truth Argentina", with the geneticist Marcelo Martinez as leader in the shadows, also help in the dissemination. Other secondary characters such as Colín Rivas also act as a liaison in English-speaking countries.
The network is much more complex and has Mirror pages  where the contents of the Fifth Column are translated and later shown in some  US Shows. UU as new analysis with graphene, dealing again and again with the same study
10. BRUTAL MAGNETISM IN UNVACCINATED 6-year-OLDS WITH SPOONS STUCK ON THEIR sweaty BODIES. BLUETOOTH SIGNALS DETECTED IN DUCKS AND DONKEYS and as much evidence:
https://odysee.com/@periodistasporlaverdad:5/ESPECIAL-GRAFENO:d?lid=442d4973cd525799c3a757e5b1466e156d1c18a8
https://t.me/periodistasporlaverdad/1414
Images at different magnification to look like graphene. These images have different magnification, which confuses the reader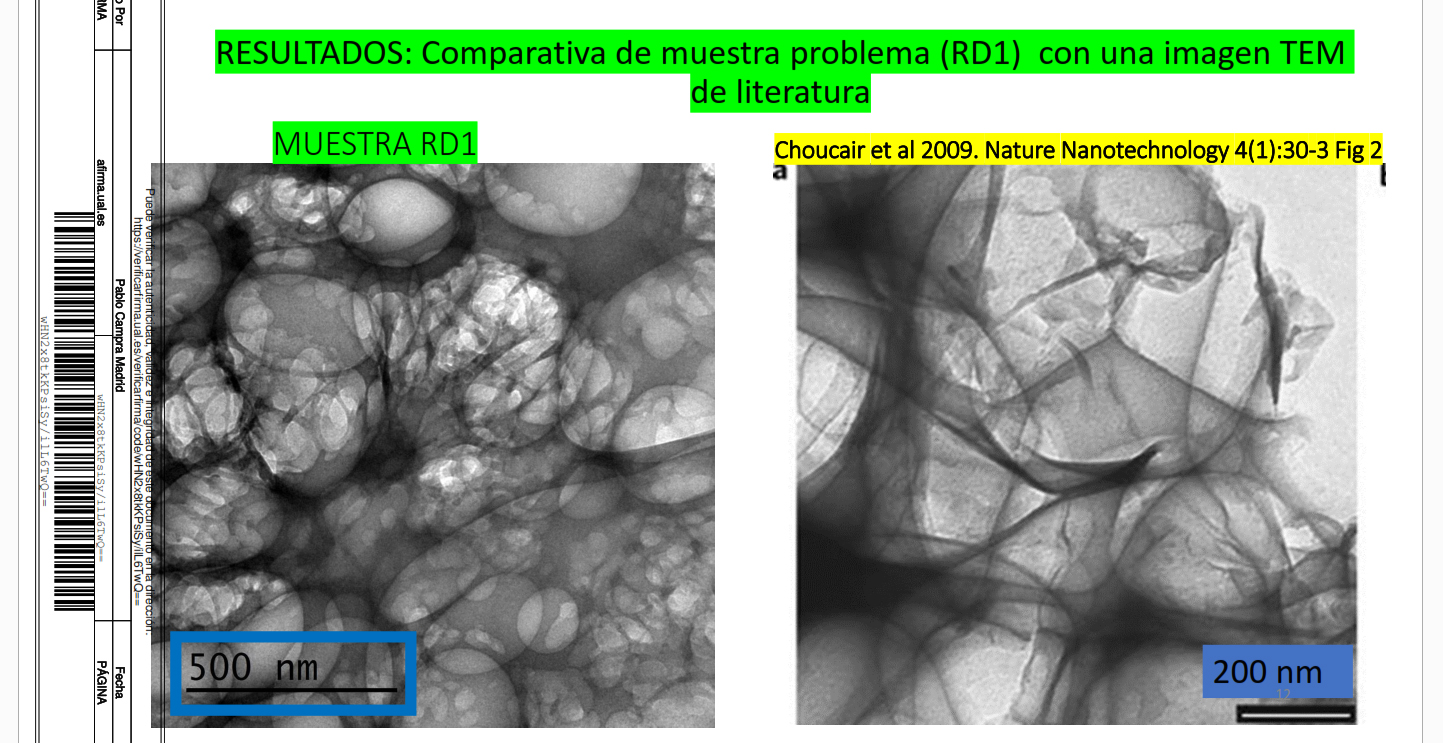 In the following video an expert questions the conclusions of Pablo Campra:
Análisis espectroscópico de las vacunas Covid-19. En busca de óxido de grafeno – YouTube
Pablo Campra at the time when he was studying the climate and the properties of food.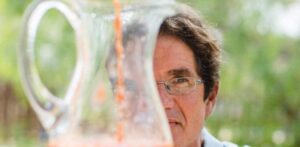 11. ON THE IMPLICIT TOXICITY OF THE VACCINES THEY HIDE TALKING ABOUT GRAPHENE:
https://odysee.com/@periodistasporlaverdadsoporte:9/%C2%BFQue%CC%81_ma%CC%81s_con%CC%83o_quere%CC%81is_que_lleve_la_vacuna_%C2%BFgrafeno:5?lid=442d4973cd525799c3a757e5b1466e156d1c18a8
12. THE BIG RESET MOVIE". THE ABSURDITY BECOMES DOCUMENTARY THANKS TO JORGE ROCA VITORERO (W) OWNER OF A COMPANY THAT HAS MADE DOCUMENTARIES TO LOCK US AT HOME AND PUT ON THE MUZZLE:
https://odysee.com/@periodistasporlaverdad:5/big-estafa-grafeno:e?lid=442d4973cd525799c3a757e5b1466e156d1c18a8
https://t.me/periodistasporlaverdad/1554
Bonustrack: https://t.me/periodistasporlaverdad/1622
13. Families defrauded by the FIFTH COLUMN DENOUNCE:
https://odysee.com/@periodistasporlaverdad:5/ESTAFA-BLUETOOTH:8?lid=442d4973cd525799c3a757e5b1466e156d1c18a8
14. ACTUAL ANALYSIS OF VACCINES BY DR. FLEMING'S TEAM. HERE'S WHAT THEY'VE FOUND:
https://t.me/periodistasporlaverdad/1617
15. GRAPHENE IS NON-TOXIC. It can be exfoliated from the tip of a pencil (GRAPHITE) and in the dose of a vaccine it would be totally harmless. It is a good conductor but it is NOT MAGNETIC:
https://t.me/periodistasporlaverdad/1282
16. LIFE-THREATENING AND VERY TOXIC ELEMENTS SUCH AS MERCURY ARE PRESENT IN VACCINES (TRIPLE VIRAL INFANT, INFLUENZA), These facts have been HIDDEN while DISTRACTING US WITH AN ELEMENT OF VERY LOW TOXICITY SUCH AS GRAPHENE (CARBON)
https://odysee.com/@periodistasporlaverdad:5/mercurio-vacunas:7?src=embed
https://t.me/periodistasporlaverdad/1825
YOU HAVE BEEN DECEIVED.
WE NEVER ASK FOR MONEY, WE ONLY ASK FOR DISSEMINATION
THIS ENTIRE PAGE HAS BEEN TRANSLATED FROM SPANISH. BE CAREFUL WITH THE INFORMATION THAT IS SUPPLIED IN DIFFERENT LANGUAGES AND REACHES YOUR COUNTRY. THERE IS A GROUP OF TRANSLATORS WHO IS IN CHARGE OF SPREADING THIS INFORMATION INTO DIFFERENT LANGUAGES.